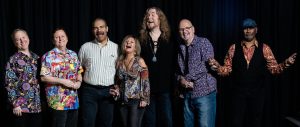 Imagine stepping into a Spaceship that travels back in time. A time when AM radio ruled the airwaves. A time when music was changing. The exact time when the British music scene landed on US soil and borrowed the best of American music like straight ahead rock from the likes of Chuck Berry, Little Richard, and Elvis Presley. The British groups used the Doo Wop harmonies and used ideas from Buddy Holly, The Everly Brothers, plus the folk music of the era including Bob Dylan, Joan Baez, Pete Seeger, plus the beginnings of Motown.
Imagine traveling back to 1964! Music was changing and the new bands were combining all of the rock & roll they grew up with and turning it into songs with beautiful melodies, catchy harmonies, and snappy clever pop songs. Once the Beatles & the Rolling Stones hit the American shores, more people in the history of broadcast media listened to the radio. The British bands led the way and the American bands were catching on too.
Many consider the 10 years from 1964 to 1973 the most fertile and versatile music period in the history of music. It was a time when AM radio had its heyday. Towards the end of the decade, FM radio stepped in to handle music that evolved so fast that the FM format was needed to handle the changing styles of music – An amazing musical time that had many crossover songs that worked well on AM or FM with some of the heavier sounds mainly found on FM.
It was a time when people became much more serious about listening to music. People started trading in their transistor radios for full blown stereo systems with big speakers producing deep luscious tones. Yes, technology was also changing. It was an incredible time for the music listener to become much more of a critical listener and the songs that were released during this insanely imaginative time were extremely diverse and sophisticated.
Get ready to travel back in time to the most influential musical time of our generation. Get ready to travel from 1964 to 1973 with "The Incredible AM-FM Time Machine". To enhance the experience, there are sound bytes and video from that era. Sit back and enjoy the sights and sounds of the most wacky, turbulent, imaginative, diverse, and beautiful musical time of the 20th Century!